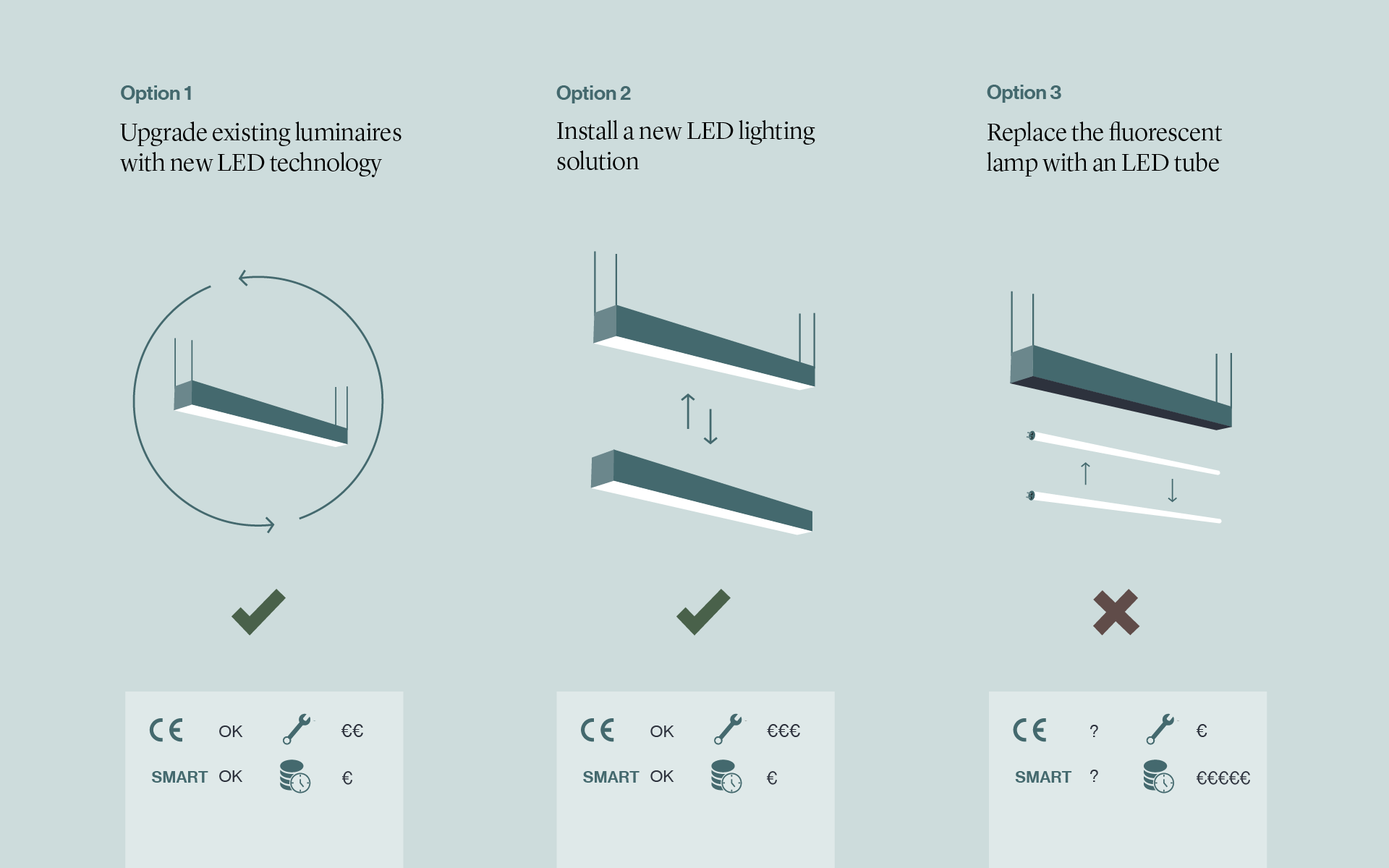 Press Release | Sustainability | 4 Oct, 2023 | 08:48
EU bans fluorescent lamps: Seize the opportunity to upgrade your lighting solution
In light of the EU's ban of fluorescent lamps, property owners are now faced with the need to upgrade their lighting solutions. In this article we will explore the options available and the results in terms of quality, energy efficiency and sustainability.
The EU has taken the lead on banning the sale of fluorescent lamps. These lamps no longer meet the efficiency requirements of SLR Ecodesign Regulations and the restriction of hazardous substances (RoHs) directive which aims to restrict the use of specific hazardous substances such as mercury. Fluorescent lamps are now being phased out across Europe and property owners are faced with the challenge to upgrade their lighting solutions.
We have put together the available options for you, starting with the option with the lowest carbon footprint.
Option 1: Upgrade existing luminaires with new LED technology
The lowest carbon footprint option, and also most cost effective option, is to upgrade an existing luminaire with new LED technology. In this option the luminaire housing is re-used to minimize the need for new components and materials. Depending on installation you can either do a retrofit by replacing the fluorescent gear with efficient LED technology, or do a complete refurbishment where you also adjust and upgrade the optics for increased visual comfort. While upgrading existing luminaires it is a good idea to add smart lighting functionality to further reduce energy consumption and lower your carbon footprint. Both retrofitted and refurbished products should be tested professionally to get a valid CE mark.
Option 2: Install a new LED lighting solution
A new LED lighting solution allows you to get the best possible lighting solution. Using the latest lighting technology will ensure the best light experience and visual comfort. Adding smart lighting functionality can also reduce energy consumption by up to 90% compared to your old installation. We recommend you contact a professional lighting advisor to discuss your specific project. You will get advice on what luminaires that can be upgraded and what is recommend being replaced. Old luminaires should be disposed following the WEEE directive. A new lighting solution from us will always fulfill all standards and regulations.
Option 3: Replace the fluorescent lamp with LED tube
It may seem like an easy and cost-effective solution to use LED replacement lamps. The fact is that the replacement lamps luminous flux decreases more over time, they have shorter life length, and are 20-30% less energy efficient than a new or professionally upgraded LED luminaire. That actually makes the total cost of ownership in this option higher than the other two. You will also need to check compatibility with existing control solutions and emergency lighting systems. Also you need to ensure the original CE marking is still valid. LED tubes distribute the light differently from fluorescent tubes and you would need to ensure that the original lighting design standards are still met.

At the Fagerhult Group you will find the experts
Do you need advice on how to upgrade your lighting system, please contact any of our 12 brands. They will support you with a team of professional lighting advisors and ensure you will get the best solutions that will be much more efficient, sustainable, and smarter.